About the Bears Den Lodge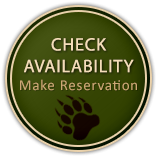 Our Alaska Eyak River Lodge is located on the edge of the Chugach National Forest. The lodge was built in 2007 and is made from all Alaskan logs. Our lodge will sleep up to 9 people: it has three bedrooms and 1 1/2 bathrooms. It also comes with a 12 passenger van and two boats to take out on the river for a beautiful scenic ride.
Cordova is a true sportsman's paradise offering a wide range of activities from spring and fall bear hunting, the shorebird festival in May, world-class salmon and halibut fishing May-Sept and exceptional waterfowl and Blacktail deer hunting in the fall.
You'll also find great wildlife viewing. Photo opportunities abound in the tranquil atmosphere of the Bear's Den Cabins. We're only 40 miles from Childs Glacier and just a few steps away from the sparkling, green Eyak River. (Read more about our beautiful location on the
Cordova page
.)
Our cabins are surrounded by trees and near the beautiful Eyak River... the woods are full of wildlife and the waters full of fish! Cordova is widely known for its abundance of animals including brown and black bear, moose, deer, eagles, shorebirds, otters, various species of salmon, and more.
Your Hosts
In 1973, Skip and Robin Jensen arrived in Cordova looking for adventure and a place to start a family. 36 years later, they have raised 5 children plus seven grandchildren, and counting...
Over the years, commercial fishing has been our primary occupation but with the seasonal and often unpredictable ups and downs, we have learned to "live off the land" in order to make Cordova our year-round-residence.
During the lush Spring, Summer, and Fall months, we invite you to come stay with us at our home that has been literally carved out of the wilderness (with cabins, lodge, and house milled from local native timber, by Skip himself).
As veterans of the subsistence/outdoor Alaskan lifestyle, we will gladly give you tips and advice on how to maximize your Alaskan adventure.
What Visitors Say
Robin & Skip: Steve and I believe we found a hidden treasure by visiting Cordova. We love the landscape, wildlife, fishing, hiking and most of all the people. We felt at home immediately and will never forget your kindness. This was the perfect place for our marriage & honeymoon. We are hopeful we will return in the near future.
--Rosemary & Steve
Robin, Skip & kids, WE loved your place here. It is beautiful, not to mention the town you live in. You made us feel like old friends. The dogs of course were a bonus.
--Missy, Mel, Chris, & Alberto


Hi Robin: Our crew made it home safe and sound. Our frozen fish also made the trip okay. We all had a great trip, and we cannot stop talking about it. Thanks again for everything.
--Ken
Dear Robin, Skip & family: Thanks for the wonderful vacation! The fishing was GREAT! You and Yours really know to put people at ease.... Hopefully we'll see you next year.
--Fred
Dear Robin, Skip & family: Thanks for the cabins. Enjoyed our visit and the dogs. Had excellent fishing and excellent scenery. Your hospitality was excellent and fishing tips great.
--Frank, Jim, Jack, Larry